Systematically Seasoned Firewood Peoria IL Will Enjoy
Good Forest Timber Company uses a traditional air-drying process to produce seasoned firewood. Though this system is less time efficient, we find the increase in the quality of our firewood to be well worth the wait. We hand-split each piece of wood to measure 16" in length and then stack the wood in such a way that each cut receives proper airflow, so it is thoroughly seasoned. The purpose of seasoning wood is to reduce its moisture content before it is used for burning. In certain circumstances, such as smoking meats, greener firewood may be preferred. Under most circumstances it's best to burn clean, dry firewood.
Firewood needs around 6 months once it's split and stacked to properly season. We have found at Good Forest Timber Co. that our debarked firewood tends to season a bit faster than that. When we remove the bark, we essentially remove the layer that traps moisture. We regularly monitor our firewood with a moisture content meter and we like to see it read around 20% or below. Dry firewood burns cleaner and produces less buildup in your fireplace or wood stove and generally burns longer as well. Our process takes time, and often only allows for a limited supply. Weather conditions can greatly impact firewood production for the year, so that's why we recommend that you order your firewood in summer or early fall in order to have the driest wood possible for the winter months. Good Forest Timber Company invests time producing seasoned firewood that burns cleaner and longer for Peoria IL homeowners to enjoy.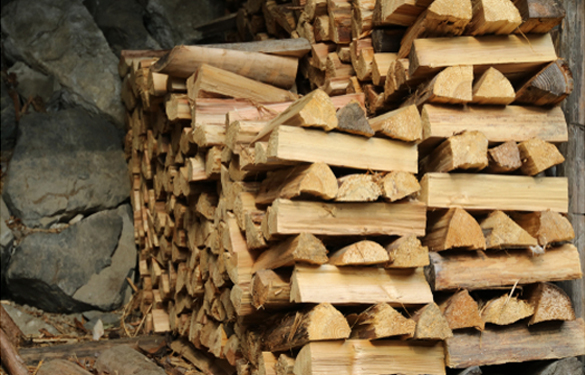 Contact Good Forest for the Best Seasoned Firewood
If you want long-burning, seasoned firewood Peoria IL appreciates, Good Forest Timber Company is the place to go. Call 309-579-3000 or contact us online to order today! You're also welcome to drop by our yard for pickup. Our hours are 7:30 am – 5:00 pm, Monday through Friday. Enter through the office door or press the service button on the left of the office door once you arrive and someone will be respond promptly to help you.