WHOLESALE HARDWOOD BARK MULCH IN PEORIA IL & SURROUNDING AREA
If you're looking for premium quality wholesale mulch in Peoria IL or the surrounding area, consider Good Forest Timber Company. Whether you are a small or large landscape contractor, we have the hardwood mulch you're looking for at the right price. Good Forest offers wholesale mulch for landscape contractors and resellers all over the state of IL. We love working with other businesses and offer competitive contractor pricing.
Shredded hardwood bark mulch is what we make on site and it's our top-seller. The rich dark color of our natural hardwood mulch simply can't be beat. It's the perfect finishing touch to your landscape project.
BENEFICIAL AND BEAUTIFUL HARDWOOD BARK MULCH
Discover the many benefits of using natural hardwood bark mulch on your landscape projects. Below are just a few reasons why our hardwood bark mulch is the best.
Gives your landscape a well manicured look and clean curb appeal
Protects delicate plant roots from drought as well as extreme hot and cold conditions
Cuts down on weed infiltration
Delivers vital nutrients and minerals to your soil as it decomposes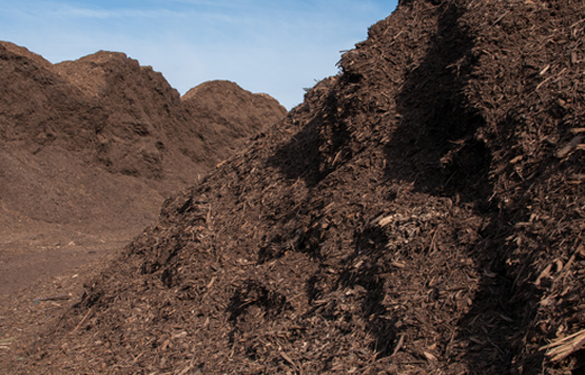 ORDER WHOLESALE HARDWOOD BARK MULCH FOR PICKUP OR DELIVERY
We sell mulch by the cubic yard and can deliver right to your landscape job by the dump truck or semi-load. To order wholesale hardwood bark mulch, call 309-579-3000 or contact us online.
We are conveniently located at 11705 N. Old Galena Rd, Chillicothe, IL if you prefer to pickup mulch during business hours from 7:30 am – 5:00 pm, Monday through Friday with Saturday hours offered seasonally. Enter through the office door or press the service button to the right of the office entrance to page our yard staff.